CT to FL Day 22
Kilkenny Creek, GA to Cumberland Island, GA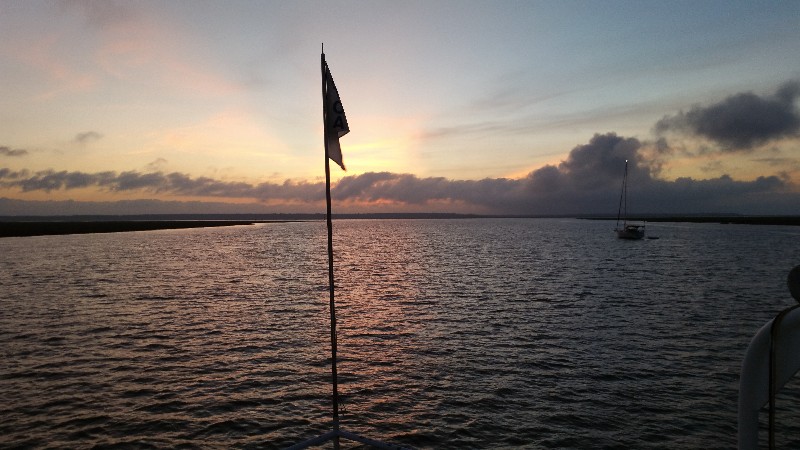 We pulled the anchor this morning at 0650 and were underway at 0700... surprisingly the chain came up totally clean... NO MUD at all.
5 minutes and we were back in the ICW heading south... full current on our nose running 5.3 knots. That lasted until we crossed Sapello Sound and then we running 8 to 9 knots... this yo-yoing in speed continued all day.
The weather was nice today... sunny for the majority of the day... a little windy at times but had no effect on the seas.
Very little boat traffic... we passed one sailboat in Sapello Sound and the 1965 Trumpy "America" followed us through Little Mud River and once out of the south end of the river he passed us. We had seen them a few days ago... such a beautiful boat.
Little Mud River can be a problem area with very shallow water but we had a 6 foot plus tide as we went through and had no issues.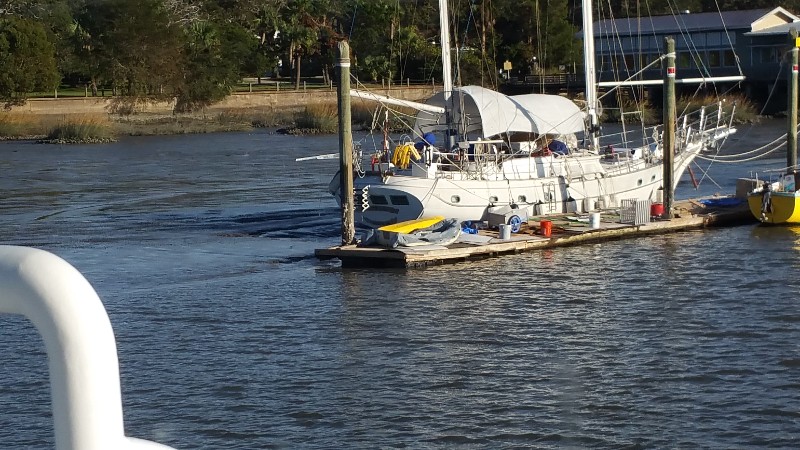 We did have issues with Jekyll Creek just south of Brunswick... we arrived there at dead low tide and with the full moon it was a -1.3 foot tide... yep that was minus 1.3 feet... the mile and half or so was basically clean the bottom of the boat... I could hear us dragging on the bottom... but we made it through at idle speed. The sailboat in the photo was at the dock sitting in mud... no water at all behind the dock.
We had planned to stop at a dock just at the south end of Jekyll Creek but it was only 1600... wind conditions were good for crossing St. Andrews Sound so we decided to continue on. The forecast for tonight was NE winds 15-20 knots seas building offshore to 4-6 feet... this would make St. Andrews Inlet crossing rough enough that we would need to take the back passage to avoid the breaking waves in the sound. Today was the day to cross.
It was a good choice and we had almost flat calm seas at the extreme eastern portion of the crossing. The area seems to have shoaled quite a bit after Hurricane Matthew... area we cross has charted depths of 9-11 feet and we saw depths below 6 feet as we crossed.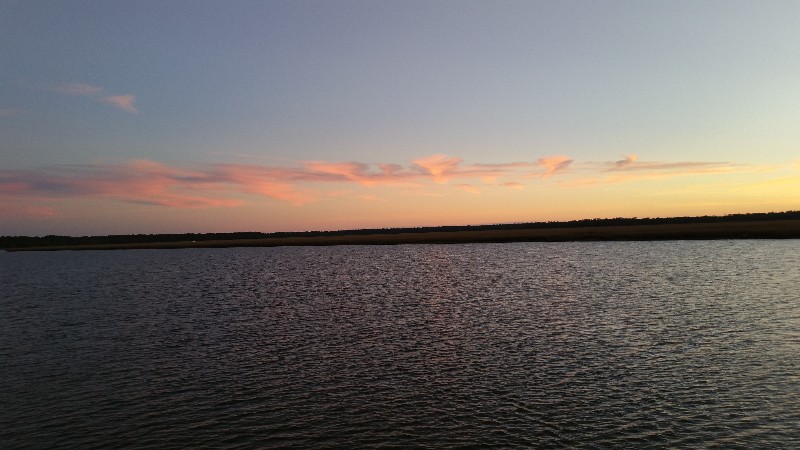 We decided to anchor in Brickhill River Cumberland Island and arrived just at sunset. We were secure on the hook at 1730 at location
N30°54.180', W081°27.393'
. We traveled today for 10 hours and 30 minutes covering 71.4 nautical miles averaging 6.8 knots.


Posted at 5:10 PM


CT to FL Day 21
Beaufort, SC to Kilkenny Creek, GA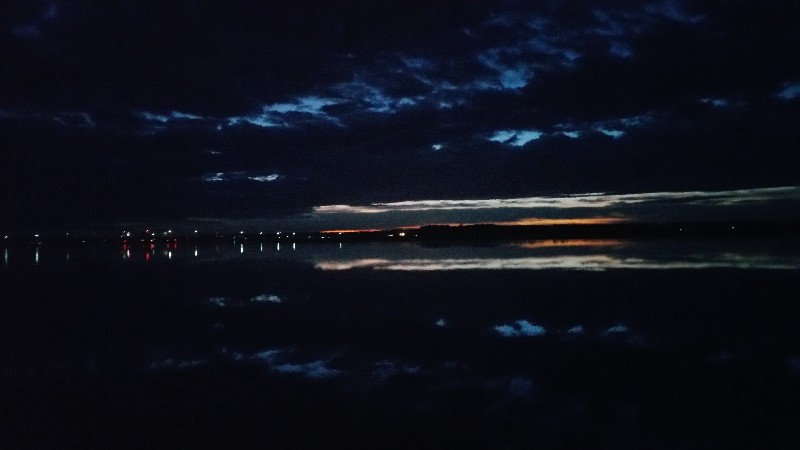 We left the anchorage this morning a few minutes before sunrise at 0700. Destination for the day planned to anchor at sunset as far south as possible.
Today was a horrible day... raining all day long. Plus we had those extreme full moon tides to deal with... 10 foot tides and strong currents. It was good the few places we had the current in our favor but it felt like it was against us most of the time.
We had one hairy area for depths... we arrived to Hell Gate at dead low tide. Per teh Active Captains reviews from other boaters transiting the area. We should not of made it through. Reports were 3 foot depths at low tide. We slowed to idle speed to creep through so if we grounded it would not be a hard grounding. Finger crossed and sitting on the edgfe of our seats we crept through... depth sounder stopped working a few times but we never touched the bottom...:)
sunset was at 1722 and we were anchored in Kilkenny Creek at 1730. Actually saw our first boa of the day here anchored just ahead of us... sailboat. Our location for the night
N31°46.698', W081°10.980'
. We traveled today for 10 hours and 30 minutes covering 67.0 nautical miles averaging 6.4 knots.


Posted at 4:58 PM


CT to FL Day 20
St. Johns Island, SC to Beaufort, SC

The current was wicked when we arrived and there was no way I was going to attempt to leave with current running, so we waited for a slack current this morning before attempting to leave... departing at 0845. Destination today... the Beaufort, SC area.
We had a cloudy and rainy day... current were extreme... either pushing us at 9 knots or slowing us down to 5 knots. Full Moon so the tides are extremely high and also very very low. The low tides had us creeping through a few spots today... particularly the south end of Ashepoo cut. The depth sounder was not even working it was so shallow... did not feel us dragging bottom but it was very close.
We arrived to Beaufort and anchored just south of the city mooring field at 1700. Our location for the night
N32°25.690', W080°40.911'
. We traveled today for 8 hours and 15 minutes covering 55.8 nautical miles averaging 6.8 knots.


Posted at 4:25 PM