After arriving and docking in Greenwich, we discovered we had a slight problem... earlier when we had stopped for fuel we noticed that an outside Y-adapter on a hose bib had cracked and was leaking water. We immediately had shut the water off... replaced the Y-adapter and assumed all was fine... but we did not realize actually how much water we had lost... thus, the "problem" we discovered in Greenwich... we lost ALL of our water... sitting at dinner we heard the fresh water pump running and it should not of been... checked the water tanks and they were empty.
I immediately shut the fresh water pump off and was off the boat to see if the docks had water... NOPE.. water had been shut off due to the freezing temperatures... I head up the dock to see if any of the buildings had an outside hose bib that we could run a hose from to get water into SAILS... I did not find any hose bibs but did find a hose running out of a building that was left on so as to not freeze. The water was running out very slowly... but it was a source of water and we had none.
The water running slowly was not the only issue. The hose was maybe a long way from the docks... we had 250 feet of water hose on SAILS, but not enough to reach the hose. So, we had a 5 gallon potable water container onboard and two gallon jugs... so we spent the next two hours filling the containers and carrying the water back to SAILS... we made 5 trips in the 2 hours... 7 gallons per trip for a total of 35 gallons... enough water to flush the heads and hygiene needs... but we would need water soon.
The next morning we were up at 0500 and departed by 0545 and underway to our next stop... Chesapeake City, MD.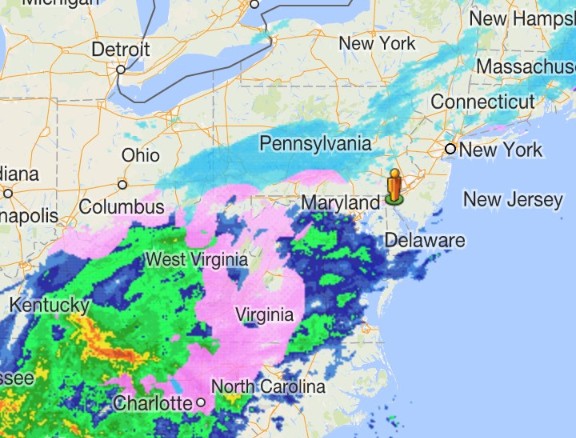 The forecast was 10-15 knot southerly winds with 1-2 seas... but we did not see anything close to this... it was blowing as forecast but waves were 1 foot at best. We did have a larger weather front approaching and the radar did not look good.
Weather approaching but the biggest issue was the current... we had the current against us all day... well not all day coming out of the Cohansey River we had a good boost in speed for 4 nautical miles then we entered Delaware Bay and slowed to 5.5 knots. We never saw anything over this speed... saw slower speeds... at times 4 knots... (sigh).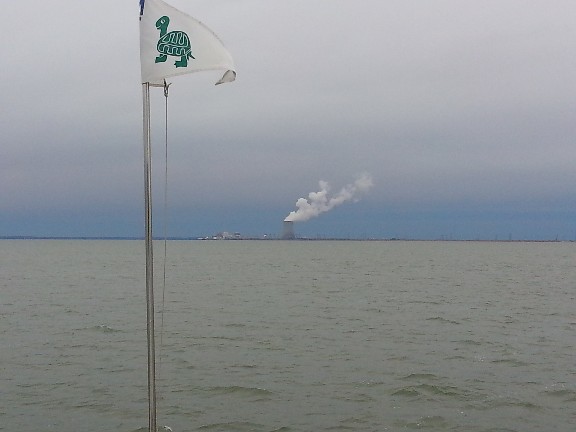 The only good thing all day was about 0900 we called the Chesapeake City Docks dockmaster Buddy Sheppard and asked if the water was on or off at the docks... he gave us some great news stating the water was on... yeah! We could fill our tanks when we arrived.
At approximately 1200 we arrived to Chesapeake City and turned into the basin where the docks are located... it was almost dead low tide... I hugged the Armt Corp of Engineers bulkhead as that is where the deepest water is and proceeded in... not problems... however once in to the basin I turned toward the docks and the water went depth from 8 feet... to 7... to 6... to 5.5 and then the depth sounder started flashing... 5.0 Last Depth... we were on the bottom... but we were still moving... very soft muck/silt bottom and we plowed through it slowly and managed to reach the docks and were back in 6 feet of water. We were secure at the docks at approximately 1215 at N39°31.633?, W075°48.669?.
Today we traveled for 6.25 hours covering 34.3 nautical miles averaging 5.5 knots.
After we docked Susan was off to walk Beecha and I connected the shore power and got the heaters running to warm the boat and was off to the foredeck to get a water hose to fill the tanks. Much to my surprise I found the water on the docks to be turned off... we of course called the dockmaster again and inquired about the water being off... he said he would check with the town maintenance department and get back to us.... so we waited.
About an hour later Buddy called us back and informed us that indeed the water had been shut off about 2 weeks ago and he was unaware that this had taken place... he apologized and offered to take us to the store so we could buy some water. We thanked him but declined his offer... we had water to drink we needed water in the tanks.
We decided to make some calls to see if any marina close had water on a the docks. We hit the jackpot on the first call to Schafer's Marina located directly across the C&D Canal from where we were docked. 15 minutes after hanging up we were docked at Schafer's. A dock met us with water hoses in hand... the water on the docks was shut off but he had run a hose from the building so we could fill our tanks... he said the charge to get water was $10... NO PROBLEM! We got the hose in place and water was flowing into SAILS.
We knew this would take a while to put nearly 900 gallons of water in so we decided to have a beer and a snack at Schafer's restaurant while the tanks filled.... checking the time it was almost 1400.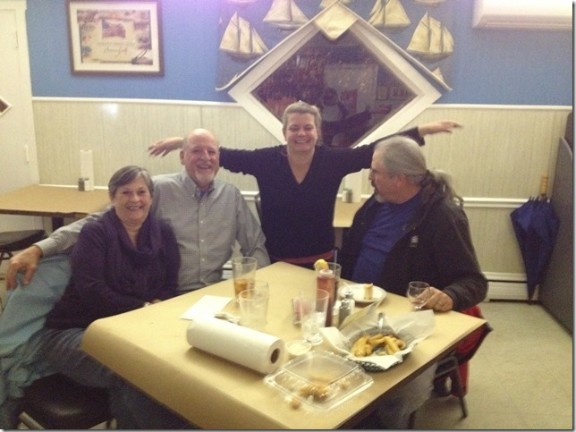 We had made plans with our really good friends Jim and Cathy Fisher that live in Baltimore to get together while we were in Chesapeake City. We touched base with them to let them know where we were so they could fins us.
After our snack we returned to SAILS and checked the water level... we had a ways to go yet... back to waiting. A few minutes later Jim and Cathy Fisher arrived and we spent a hour or so catching up... it was great to see them... had been over a year maybe longer since seeing them.
Soon the tanks were full...well not soon it was a little after 1700... took almost around 5 hours to fill the tanks... WOW! I disconnected the hose and settled up with the marina for the water and we were again underway heading back to the Chesapeake City Docks... Cathy had remained aboard for the ride across the canal and Jim drove across with their car and met us at the docks. We were secure for the second time at approximately 1800.
We spent a few more minutes chatting and decided to go out for dinner. We walked up the street in town to The Tap Room and had a nice dinner with Cathy and Jim and celebrated my birthday!