CT to FL Day 33 (Final Day)
Fort Myers, FL to Punta Gorda, FL

Yesterday we had a great afternoon with the kids and grandkids... after the church play we all went out to lunch... Ruby our youngest granddaughter was not there... she was feeling bad and had stayed with her other grand parents instead of coming to church so di not get to see her yet... but will see her on Christmas Day.... anyway, had a great lunch at a barbeque place in North Fort Myers... not sure what the name of it was but the food was good.
After Lunch my son Mark took me to pick up our car from storage out off of Highway 31... they had charged the battery and washed the car and had it out waiting for me to pick it up... very nice people... ever need to store your car I highly recommend them... Highway 31 Storage. Mark then followed me to Punta Gorda to drop off the car.
We returned to Fort Myers and Mark, his wife Maryland and our grandchildren Elizabeth and Lucas spent a few hours catching up on things... was a very nice afternoon.
Later that evening Susan and I went out on the town... downtown Fort Myers to celebrate our anniversary... we had a great dinner at "The Firestone"... a very rustic place 3 stories high with roof top dinning if you want... we opted to dine inside.
The day was nice but it was really a little too much "reality" all at once... we were not really ready for the trip to be over and everything was coming to and end way too fast... LOL Good nights sleep and up at 0600 to be ready to depart at 0700 on the final leg of our 2013 trip south.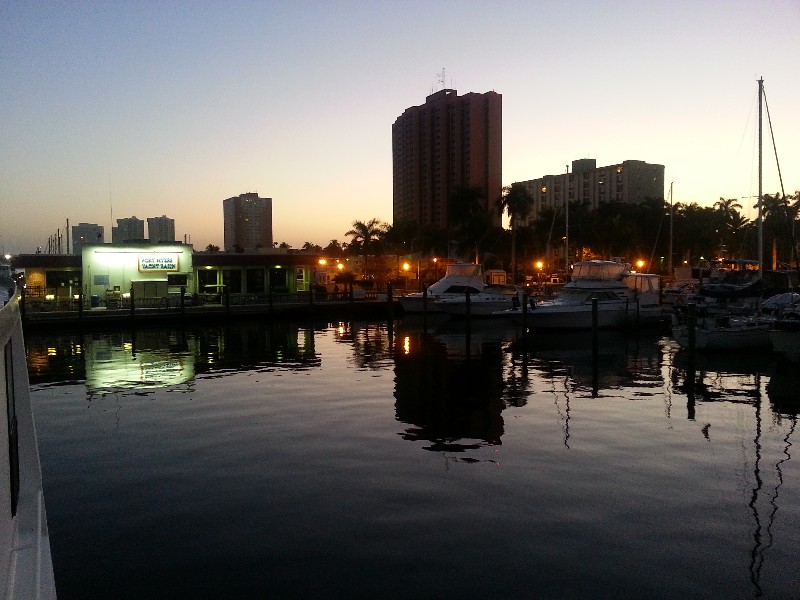 We departed at 0700 sharp and headed out onto the Caloosahatchee River bound for Punta Gorda. The tide was going out so we had a nice boost of speed all the way Pine Island... miserable mile area. For a Monday there was a lot of boat traffic... I think the most we have seen since we started on the trip... all local boats... a lot of rental boats... all sizes.
We did pickup the boost again as we turned out of the GICW into Charlotte Harbor at Boca Grande Pass and we kept this push all the way to Fishermen's Village Marina... our winter home and final stop. As we docked in our slip we saw many familiar faces... a very nice thing to see. The trip south was over and a new adventure starts.
We were securely docked at 1430. We traveled today for 7.5 hours covering 53.6 nautical miles averaging 7.1 knots.


Posted at 4:45 PM


CT to FL Day 32
Alva, FL to Fort Myers, FL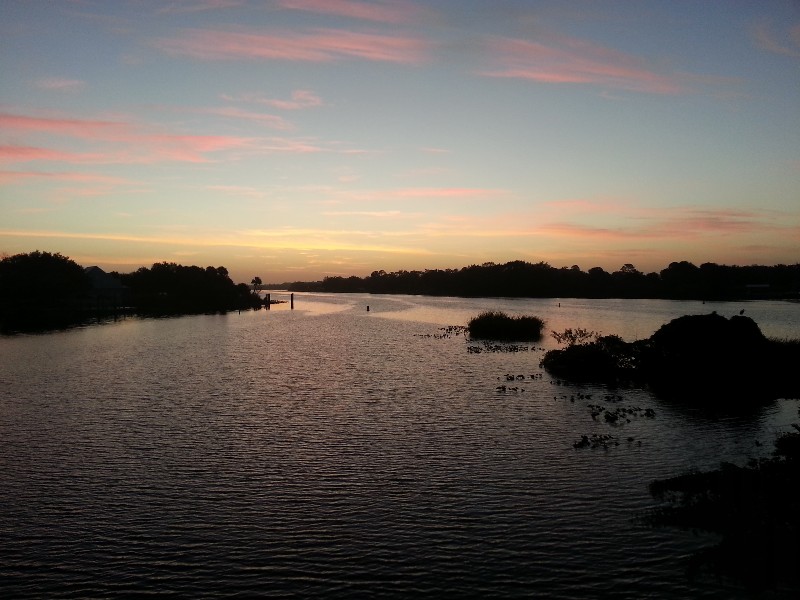 We departed Franklin Lock Campground just before sunrise and headed west toward Fort Myers our destination for the today...
Today we get back to "reality"... stopping in Fort Myers to attend a Christmas Play at the church my sons Mark and Josh attend. Will get to see the grandkids and probably be going out to lunch with everyone after church. Then this afternoon Mark is taking me to pick our car up from storage and take it to Punta Gorda... Trip almost over... one more day!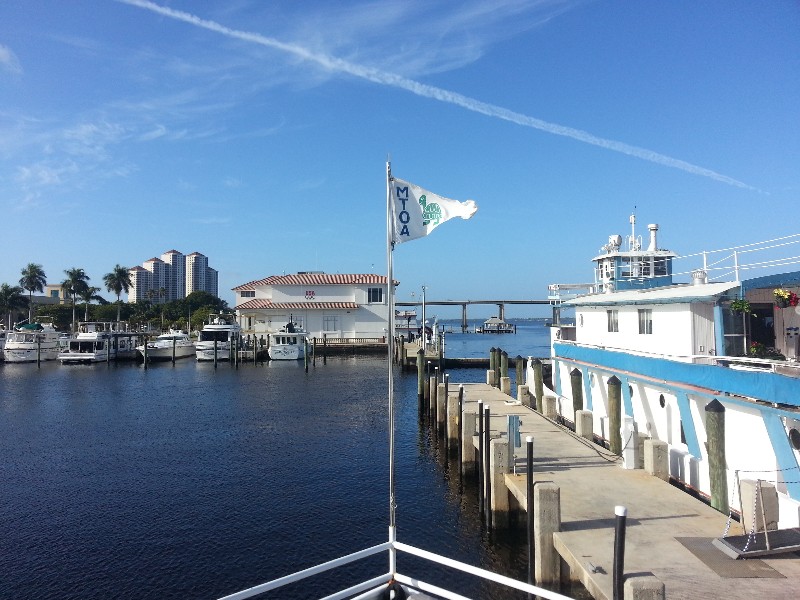 We arrived to Fort Myers at 0900 and docked at the City of Fort Myers Yacht basin at N26°38.844', W081°52.216' We traveled today for 2 hours covering 11.7 nautical miles averaging 5.9 knots.


Posted at 10:22 AM


CT to FL Day 31
Moore Haven, FL to Alva, FL

Last night we had a great time at the restaurant on the marina property... Lightsey's Seafood Restaurant. We took the golf cart (provided by marina) to the restaurant and had a great meal... we did not have seafood... we both had burgers... giant burgers and very very good!
With a short day planned we slept in and Susan prepared a great breakfast for us... normally, breakfast is a muffin, bagel or toast after we get underway... it was nice to have a full breakfast. After a leisurely morning we cast the lines at 1015 and headed west bound for the W.P. Franklin Lock campground. They have boat slips available for use and the price is right... $24 for the night including power.
We again had the boost of speed with us so I reduced the RPM to save some fuel and still cruised at 7 knots... appeared we were getting a 1/2 to 3/4 knot boost in speed...very nice!
We did have a few bridges and one lock to deal with today... about 30 minutes into the day we arrived at the Ortona Lock... took about 30 minutes total to lock through dropping just over 8 feet. Three bridges after this that all required an opening... Labelle Bridge, Fort Denaud Swing Bridge and the Alva Bridge. First tow bridges went smoothly and very little delay at them... the Alva Bridge was slightly different... but it was my own fault for the delay. We arrived and about a 1/4 away I hailed the bridge and asked for an opening... no problems... then another boat hailed and said they were eastbound and just under 1/2 mile away... I then being courteous hailed the bridge back and said I would wait for the eastbound boats to arrive so he would only have to open once for all of us.... my mistake... LOL 15 minutes later the first sailboat arrived... 5 minutes after than the other two boats arrived... the "1/2 mile away" I think was a little off... oh well... that's what I get for being nice... LOL We did not have that far to go anyway and in no rush... no harm done.
We arrived to Franklin lock at approximately 1445 and docked in slip B08... this is an outside slip and really the only one we can fit in... all the others we take up two slips. Our location for the night N26°43.384', W081°41.445'. We traveled today for 4.5 hours covering 27.7 nautical miles averaging 6.2 knots.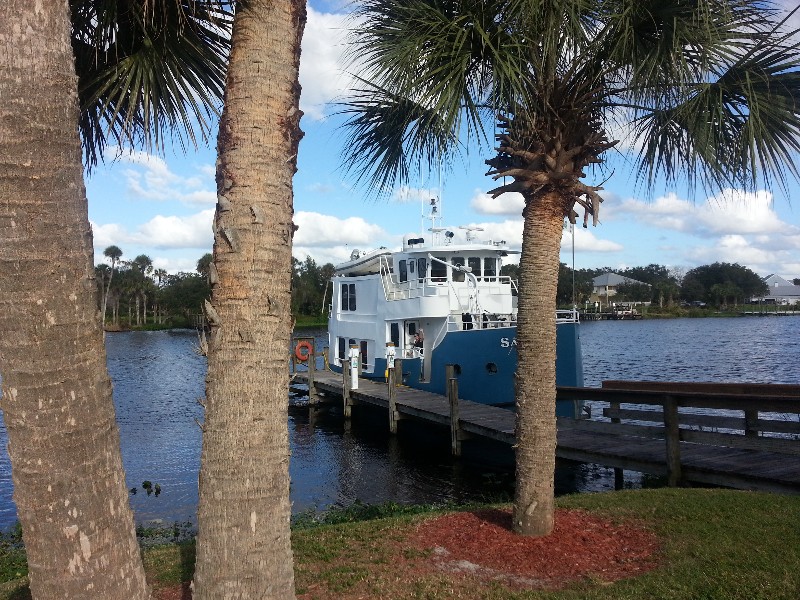 At the dock beside us was a small sailboat... 25 foot I am guessing... they had one of those wind scoops setup to direct wind into the cabin of the boat... after we docked... NO MORE WIND for them... and they were a little upset... giving us unfriendly glaring looks when they saw us... anyway, they soon were removing dock lines and moving to a "windier" location several slips away from us.


Posted at 10:11 AM