FL to CT Day 17
Carolina Beach, NC to Swansboro, NC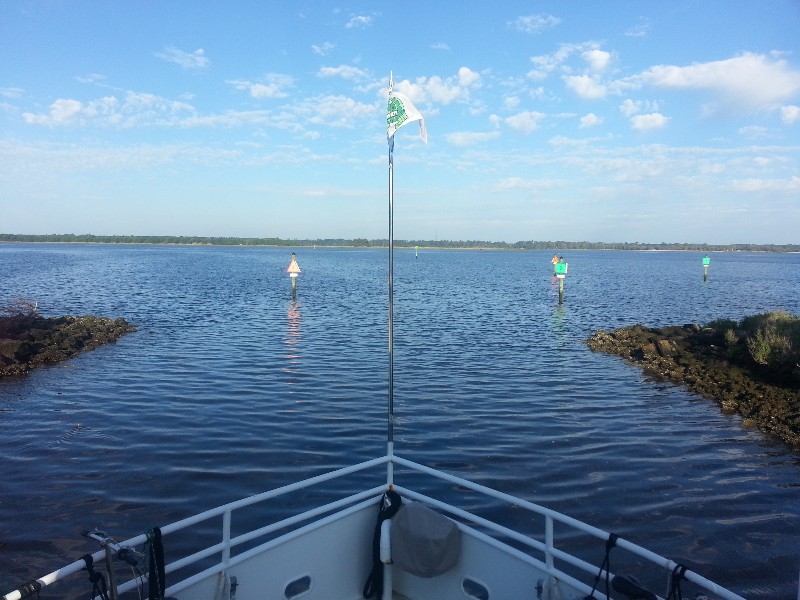 Alarm went off at 0600 and Susan was up right away… she wanted to finish up some laundry be fore we left… I hit the snooze button… well at least I thought I hit the snooze… must of shut it off… next thing I know I look at the clock and it's 0730.... CRAP! I had fallen back asleep and this is the time I had planned on leaving.
Today is a horrible day for bridges and I had planned our departure based on bridge opening times… we need to leave at 0730 to make the first bridge in Wrightsville Beach. We hurried and were ready and departed at 0800… we were not going to make the 0900 opening but we would easily make the 1000… bridge only opens on the hour.
We made the 1000 opening and then had to deal with 3 more bridges that have opening schedules that are tough for us to make…
1) Wrightsville Beach
2) Figure Eight Swing Bridge
3) Surf City Bridge
4) Onslow Beach Bridge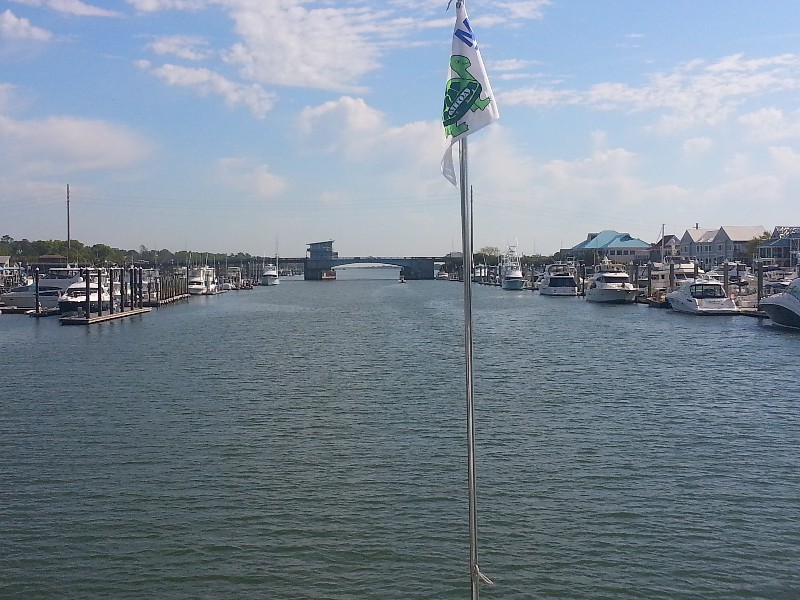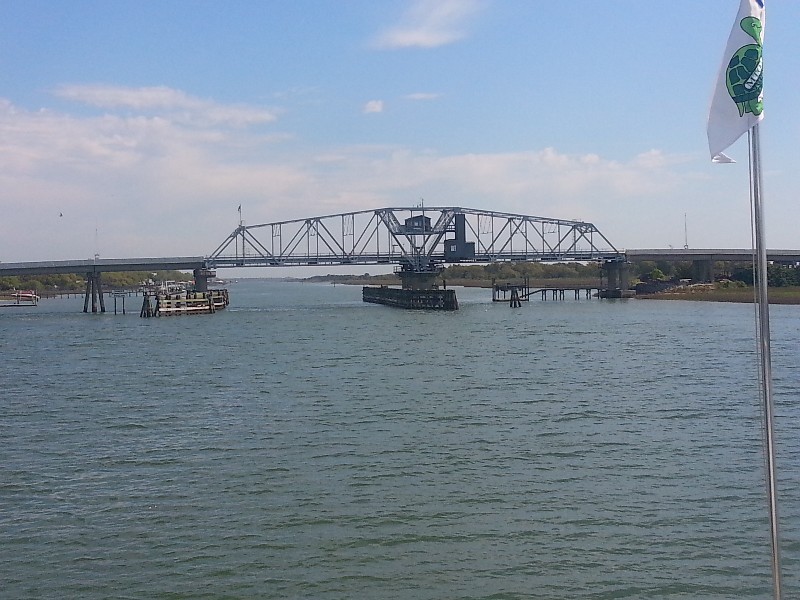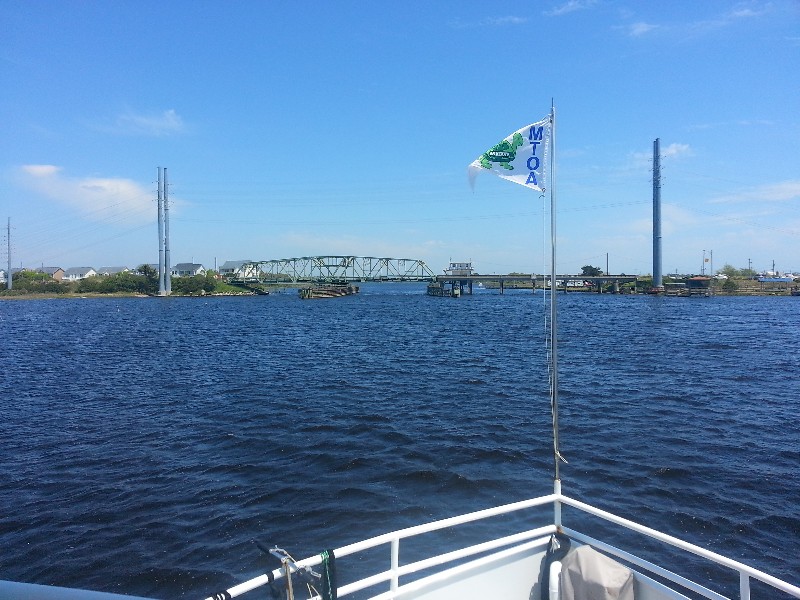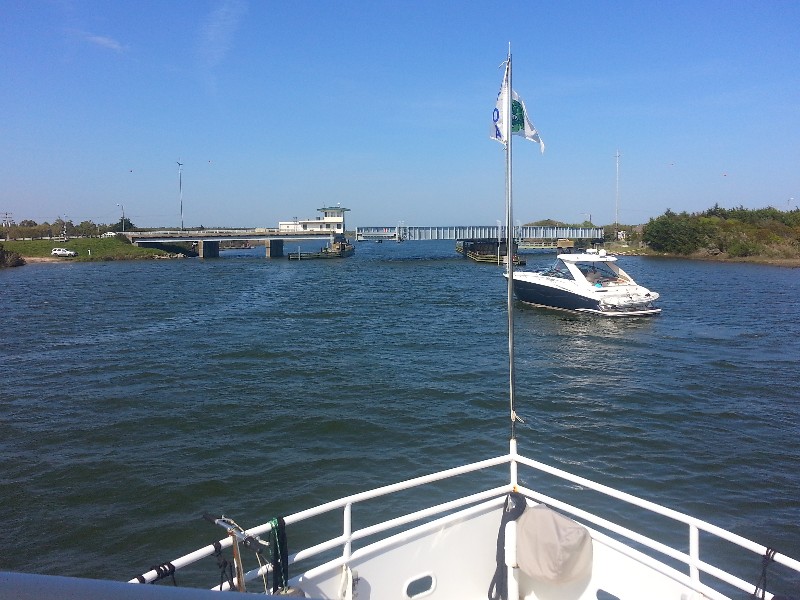 We arrived to Swansboro to find our normal dock at the Saltwater Grill was under construction. We found that out that Swansboro is turning these docks into official town docks… hopefully, they remain free… we'll see.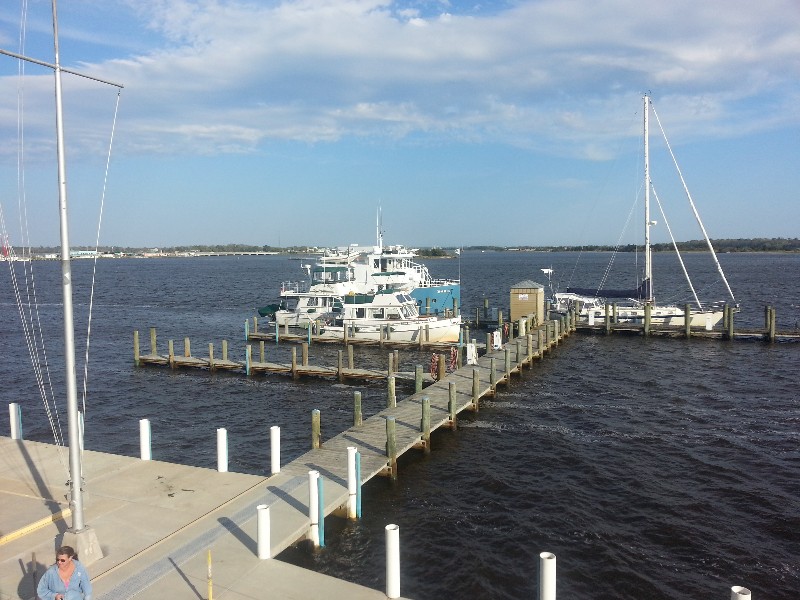 This is not the best place to anchor with current being very strong and poor holding so we contacted Caspers marina that are adjacent to the Saltwater Grill docks… they had space and we pulled in and were secure to the dock at 1730 at N34°41.122', W077°07.257'. We had traveled for 9.5 hours covering 58.8 nautical miles averaging 6.3 knots.


Posted at 5:12 PM


FL to CT Day 16
Murrells Inlet, SC to Carolina Beach, NC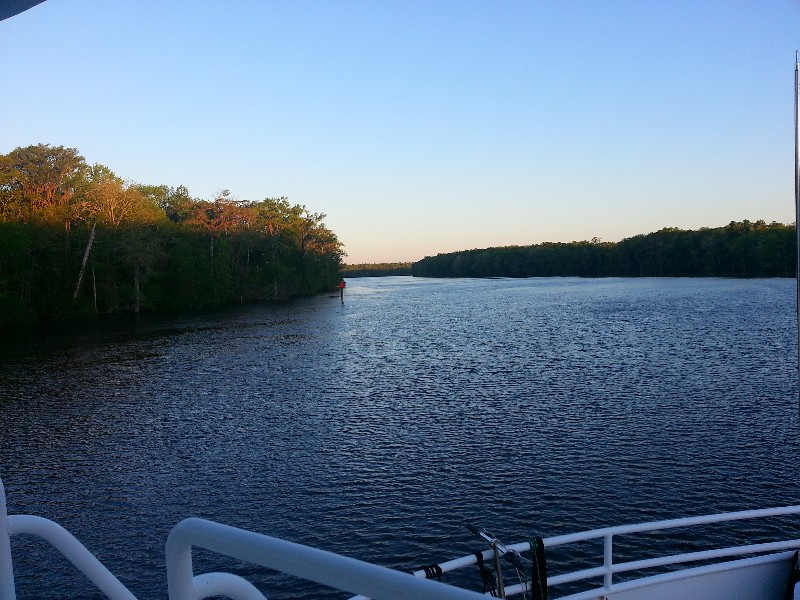 We departed bright and early again today at 0645 with another long day planned going to Carolina Beach, NC. We would put another state behind us and move into North Carolina. We are over half way now… it's all downhill from here… ?
It was a beautiful day of cruising… the sun came out and never went away… have not seen the sun for about a week. We have had nothing but wind and rain since Florida. So it was very nice to have the sun out with us all day…. AND the wind was way down… saw some gusts to 18-19 knots but most of the day it was under 15 knots… hoping this is sign of what type of weather we have for the rest of the trip.
We planning to stop at Bucksport Marina to buy some of their sausage… I love it… Susan hates it… but they were not open yet as we passed by… SIGH… still have one package left… will have to make it last till our return trip.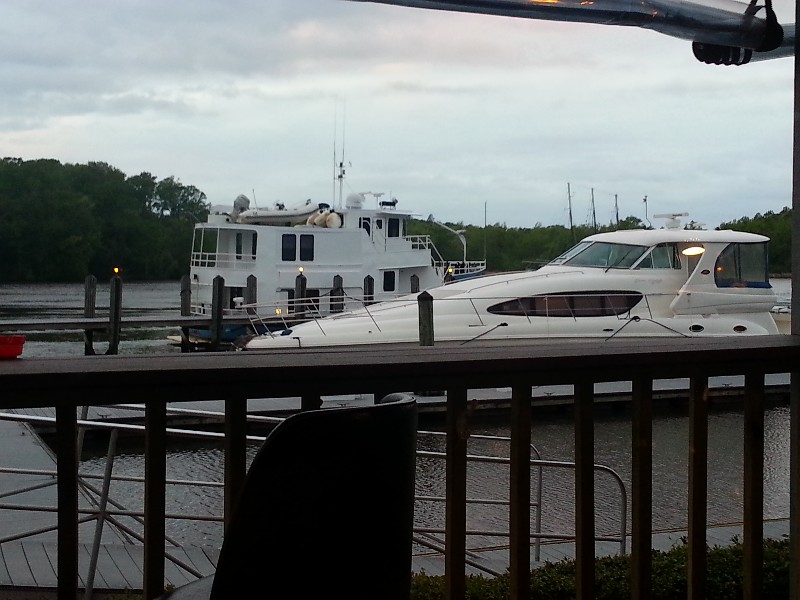 Yesterday we had a SeaRay pass us just before Georgetown, SC… when they hailed us to pass they referred to themselves as the "Big Ugly SeaRay"… they were not the owners… they were two delivery captains taking the boat north for the owners… anyway, they had stopped at Wacca Wache last night same as we did… we had left before them and just after Bucksport they hailed us to pass… this time they wanted us to be prepared for a few photos… turns out one of the guys on the boat is a professional photographer and was going to take some photos of SAILS as they passed… they also, offered to send us copies via email… COOL! We'll see how they come out… loves photos like this and in such an awesome area… they should be good.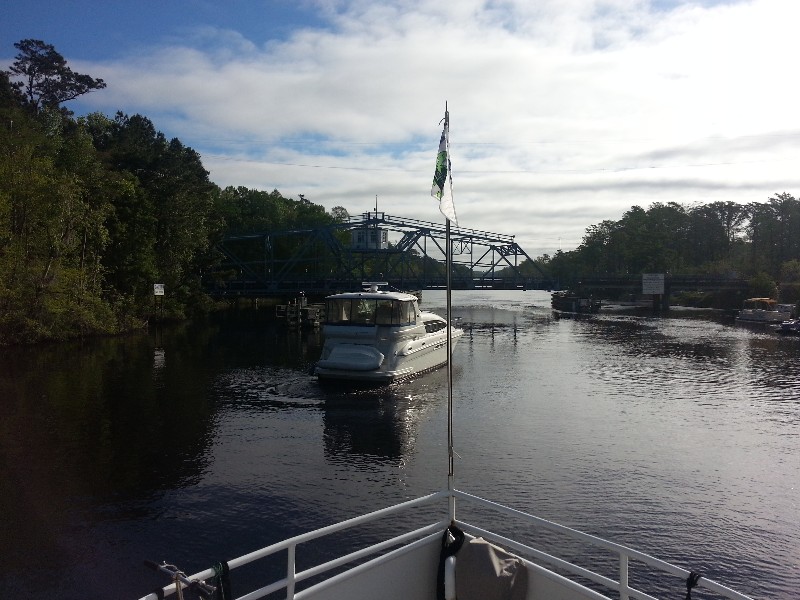 Today the Socastee Bridge tender decided to be a control freak… on the VHF we heard a sailboat arrive 20 minutes before we would be to the bridge ask for an opening… bridge tender responded 5 minutes to clear traffic… then the "Big Ugly SeaRay" arrived 10 minutes later… still no opening… we arrived shortly after this and asked for an opening and the bridge tender responded as soon as traffic clears… we waited another 15 minutes before he started the opening… and we were watching the traffic cross the bridge… there were spans when we did not see a single car for 2-3 minutes… sure seemd like he culd of opened long before he did… Then we had a similar thing a happen at the next bridge in Little River… the guide books even have notes about this bridge tender being slow to respond… this was a 15 minute wait for an opening… ?
We did have a favorable current for a good portion of the day… in fact all day long till we reached the Cape Fear River… the bridge delays had caused us to miss our timing for currents here and we hit an ebb tide… and it was a 2 knot ebb tide… really slows you down when you're only going 6-7 knots to begin with… made the last leg of our trip 2 hours long instead of an hour.
We pulled into the Carolina Beach State Park Marina were secure to the dock at 1800 at N34°03.014', W077°55.154'. We had traveled for 11.25 hours covering 76.3 nautical miles averaging 6.8 knots.


Posted at 6:36 PM


FL to CT Day 15
Charleston, SC to Murrells Inlet, SC

We departed this morning earlier than normal as we had a longer day planned with destination for night being Murrells Inlet, SC... left the docks at St. Johns yacht harbor at 0645.
It was one of those days again... high winds and raining even thought the rain was not forecast... sucked! winds were sustained 25 knots and gusts to 40 knots... current yo-yo'd back and forth but felt like it was against us more than with us... and it was a long day!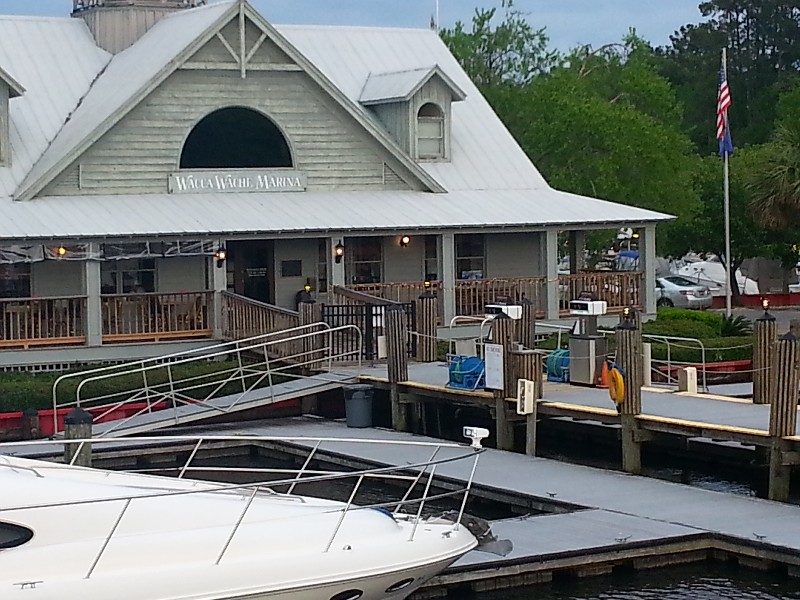 Even with the weather there were a lot of boats moving north... larger motor yachts in the 70-80 foot range.... and a few smaller boats.
We arrived to our destination for the night at 1900... Wacca Wache Marina... had our Easter dinner at the K-Rae's Grill which is at the docks here. Hopefully, tomorrow will be a better day!
We traveled today for 12.25 hours covering 77 nautical miles averaging 6.5 knots. Our location for the night N33°33.748', W079°05.184'.


Posted at 7:51 PM